Wilshire Horse Lovers' Library




Click on each title for more information and to order.
Secure orders can be made through this site or PayPal.

---

E-Mail Melvin Powers at: mpowers@mpowers.com.
Copyright © 1995 - 2013 Wilshire Book Company. All rights reserved.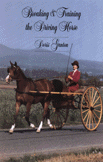 Breaking and Training the Driving Horse (above) available as a book and a videotape.